Manuscript Theft and More, History News January 22, 2015
Plenty of mysteries this week, ranging from an opera singer to a manuscript theft to a long-lost town. On a somber note, a soldier finally gets the honor he deserves.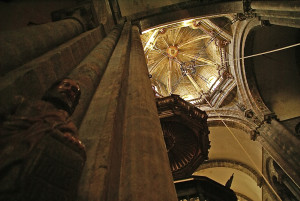 Uncovering One Irish Town, Archeologist Find an Earlier Settlement
Who Was the Man Behind the Earliest Known Recording of Waltzing Matilda?
Alleged Manuscript Thief on Trial; Police Found It in His Garage
New Zealand Soldier who Suffered PTSD and Was Executed for Desertion Finally Honored on Memorial
The picture on the right in an interior shot of the Cathedral of Santiago de Compostela, the place from which the manuscript, the Codex Calixtinus, was stolen.
Image Credit: Jairo, Flickr Creative Commons