Episode Five: The Conquest of Wales and The Wicked and the Just
Podcast: Play in new window | Download
Subscribe: iTunes | Android | RSS
This week, we do our first historical fiction spotlight and talk about the history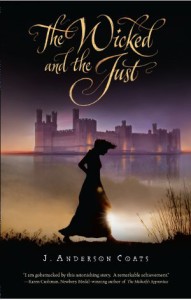 behind it. The show begins with the basics of the Edwardian conquest of Wales and leads to a spoiler free discussion of THE WICKED AND THE JUST by J. Anderson Coats, a young adult book about two teenage girls–one English, one Welsh–living in 13th Century Caernarfon (old spelling: Caernarvon).
Correction: I misspoke during the episode and said that Manx was a Brittonic language. In fact it belongs to the other branch of Celtic languages, Goidelic (think Gaelic).
Notes: Sorry about the occasional jingle or bonk in the recording. Our cats were extraordinarily bad this week. We'd kick them out of the room, but they'd just make more noise.
Background Sources
Coats, J. A. (2012, March 3). Guest post: What's in a name. [Blog post] Retrieved from Wear the Old Coat: http://weartheoldcoat.com/2012/03/03/guest-post-whats-in-a-name-by-j-anderson-coats/
Davies, J. (2007). A history of Wales: Revised edition. London, United Kingdom: Penguin.
The Edwardian Conquest. (2008). In The Welsh academy encyclopedia of Wales. Cardiff, United Kingdom: Literature Wales. Retrieved from http://public.credoreference.com/content/entry/waencywales/edwardian_conquest_the/0
Paul, V. W. (2008). King Edward's conquest of Wales. Military History, 15, 50-57.
Our Spotlight Book
Coats, J. A. (2012). The wicked and the just. Boston, MA: Harcourt.
Coats's Pronunciation Page
Coats, J. A. (n.d.) Pronouncing Welsh names. Retrieved from: http://www.thewickedandthejust.com/pronouncing-welsh-names/