Episode Twelve: Victory Gardens and Children's Literature: Interview with Leigh Shearin
Podcast: Play in new window | Download
Subscribe: iTunes | Android | RSS
Quick announcement: If you try to get in touch with the show over the next few weeks but don't get a response for a while, it's because we've got a baby due soon and our silence means he came and we are super busy. We're prescheduling content to come out on a regular schedule, but we may be poor correspondents for a while.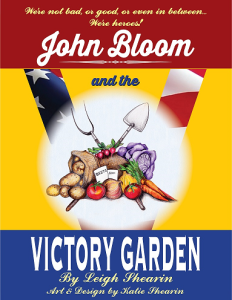 In our second author interview, Leigh Shearin discusses life on the homefront of World War Two and her book for middle grade readers, John Bloom and the Victory Garden. For a fun discussion, have a listen above or see the (somewhat less polished) video below.  Leigh also has a sequel coming out in October: John Bloom and the Victory Garden: Digging In.
Below, you'll find a few pictures: the cover of the sequel, a map of the fictional town of Appleside, and, of course, an author photo.
You can find out more about Leigh at http://leighshearin.weebly.com/. And you can get the book on Amazon here: http://www.amazon.com/dp/B00OKMZ8G0.